When shifting the office to a new place then we feel butterflies in our stomachs, goosebumps and anxiety. Moving an office from one place to another includes a lot of work and preparation to do to make moving easier and hassle-free. Office removals adelaide are often very different from house removals due to the complexity involved and the amount of organization required. If you want to make Stress Free Office Shifting with minimal disruptions and make it as smooth as possible then in this blog we mention six different and unique ways.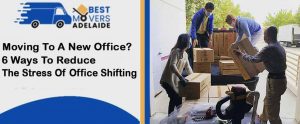 Six Different And Unique Ways For Stress Free Office Shifting:
Start The Planning Process Early –

Preparation is the key if you appropriately want your office removals. If you want to relocate your office then as early as you create a plan for moving things you can move efficiently. In case you have a larger office then you need more time to facilitate the moving process. So, make this complicated process easy by creating a plan.

Announce The Move And Ask For Help From Staff –

Communication with staff gives you peace of mind. The more detail you put into the communication, the easier it will be to wrap your head around all the steps of your office move. Keep your staff informed about the day and date you relocate your office. As you get closer to the move, let them know what their tasks and responsibilities will be. Furthermore, through announcement your clients will also save from disruptions. In addition, you must provide details of the new office and include a map for easier access.

Storage Boxes For Moving –

At first glance, this task seems simple and easy and you may think why do it in advance? But a storage box helps you to maintain things and documentation simply and efficiently so that your document remains safe in the moving process. Arrive at the perfect box decision by considering your budget, your timeline, your inventory, and your moving manpower.

Labelling –

Labeling the boxes makes crystal clear everything like where the boxes should go. For example, mention with permanent markers or stickers on stationery, and files. And important documents that you need first you can mention on the top "Open Me First". You can give every team colour. Mark sections of the office with the same tape matching the team's colour.

Declutter Your Office –

When you relocate office then you may want to replace or dispose of old telephones, computers, outdated paperwork, office supplies, old furniture, and many other things. You may dispose of these items by donation drives and sales. Alternatively, you may also choose to throw some things out.

Appoint Professional Movers And Packers –

Office removals adelaide are often complicated by the fact that you need to transport sensitive items or unpack them at the new location. In that case, you can appoint professional packers and movers. A professional office removalist has complete knowledge of how to handle sensitive items during relocation. Moreover, professional teams have trained removalists that will arrive on time and ensure the moving day runs smoothly. So, invest in professionals for a stress-free move.
Conclusion
Relocating an office is a difficult process. That needs extra care and time. That should never be attempted by an individual. Many people think they relocate their office without the help and assistance of a professional team. But for Stress Free Office Shifting from one place to another needs help from experts. Professional packers and movers adelaide team will take care of everything for you. Invest in professionals so that you can be certain that your office furniture, computers, and important documents will arrive safe, secure, and on time. Hope this blog gives you exclusive and complete knowledge for the office movers.