Pool Table Removals Adelaide
Are You Looking For Professional Pool Table Removal in Adelaide?
Shifting things is tiring and hectic work, it requires a lot of manpower, planning and precision. Talking of pool table, relocating it is a quite difficult job. Even enough of manpower cannot guarantee a safe and secure shifting. To do the pool table removal job one needs to follow technique and expertise in handling lifting tools and equipment.  At Best Movers Adelaide we are known for our home removal services, we have expertise in relocating the pool table. We have hired an expert and healthy pool table removals Adelaide workers, they do the job smoothly. One of the important factors for removers is the safety and security of belonging, we ensure both. Be it residence to residence shifting or residence to store shifting, we're experts in both services.
Best Movers Adelaide has the best team for providing pool table removal services all over Adelaide with skilled experts and advanced instruments. Relocating and moving pool table can be a problematic thing. And the problems become severe when you have to move on an urgent basis. During that time, people cannot decide what to take and what not to. But, if you hire our Pool Table Removalists Adelaide, we can assist you with the best solution. We will pack everything on behalf of you and send it over to your place by our delivery system. After that, if you need us to unpack the things, we will do that for you. In short, we aim to make your relocation effective, not stressful.
Professional Pool Table Removals Adelaide
Doesn't matter where you've kept the pool table, we move it from anywhere and relocate it as per your demand. We own trailer truck, pick up truck and large truck for all size pool table relocation. We use leather protection cover and Dolley to easily load and unload on the truck.
Although it may seem an easy job, it is a technical job that requires precision and undivided attention for completion. The work has to be done in a proper manner to minimize error and avoid damage. So it's best to look for support from an experienced movers Adelaide team.
Modus Operandi of Removalists Adelaide.
Over the years, we have gained expertise and proficiency in shifting pool table without causing a hassle to the clients. We have developed a precise method to move the table smoothly without any error. The entire team operates in tandem with each other to complete the shifting cycle without compromising with the safety of your items. Here's a quick tour of the entire process of shifting:
We are just a call away to completely shift your heavy pool table without any hassle. Once you book the service, we take charge to securely shift your pool table.
We first do the inspection to collect information and plan the shifting process accordingly.
Then our team will visit the location with all the required tool to dismantle the pool table and start the shifting process. Using packing materials we cover the pool table. This ensures zero damage to the pool table while shifting.
All our team members then hold the pool table from each corner and load it on the truck. Our driver then takes it to the desired location where our team member unload the truck.
Our movers then assemble the pool table and safely place it again.
Once all the things are done, we look for client feedback so that we can make improvement.
Why Choose Us For Pool Table Movers Adelaide?
There are numerous pool table removals in Adelaide, the question "why choose us?" has not a straight forward answer. However, we have a promising answer, that whatever we do, we will do proficiently. We will use our best resources, tools and equipment so that we can guarantee our clients that we will relocate their item safely. We know the job doesn't require any special expertise, however, it does require professionalism and trust. We assure our clients that you can expect both from us.
You can leave your pool table removals Adelaide job to us. Besides relocating dismantling and assembling process, care and commitment are needed as well. A small error can cause huge damage to the pool table or the person involved in the job. Therefore, we do not take any risks and do the job sincerely. This makes it even more necessary to hire only the professional table removals company who is well equipped to handle the job with optimal efficiency.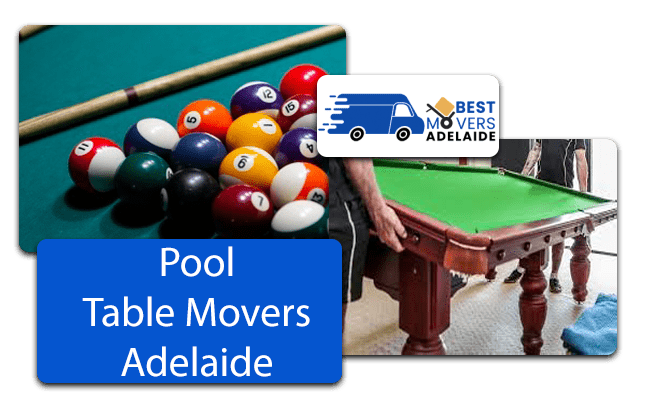 Here Are Some More Reasons Of Choosing Us.
Assured quality services.
Cheapest prices in the industry.
We have extended our service to even move your pool table a few weeks before you vacate the location and move to the new location.
We can also come to relocate the pool table on the same day of booking.
We offer special discount on holidays.
Additional 10% discounts for senior citizens.
You can book the service online on our website or you can call on our toll-free number.