Cost of Moving From Melbourne to Adelaide With Best Interstate Moving Companies
Cost of Moving From Melbourne to Adelaide – Relocation is always stressful, it's a common fact. Interstate moving comes with more demand for times and arrangements. As you need to go through lots of work like checking things that you have packed or not left anything behind. Though hiring an expert removalist can be very helpful. If you don't have any idea about the interstate moving cost, then, don't worry. We will discuss this topic briefly in this article. We know that you do not move interstate daily so you may not be knowing about general costs and hidden costs. This will clarify all costs. 
Let's take an example if you have a three-bedroom home to move from Melbourne to Adelaide, then, the average cost of moving from Melbourne to Adelaide will be around $2,600-$5,850. For removal from one city to another the cost will be based on various factors that you must know if you are moving. Also remember, it will be beneficial for you to add on some services like packing or storing from the same company. If you will hire more than one removalist company, then, it will be difficult for you to track the work and costs will also increase.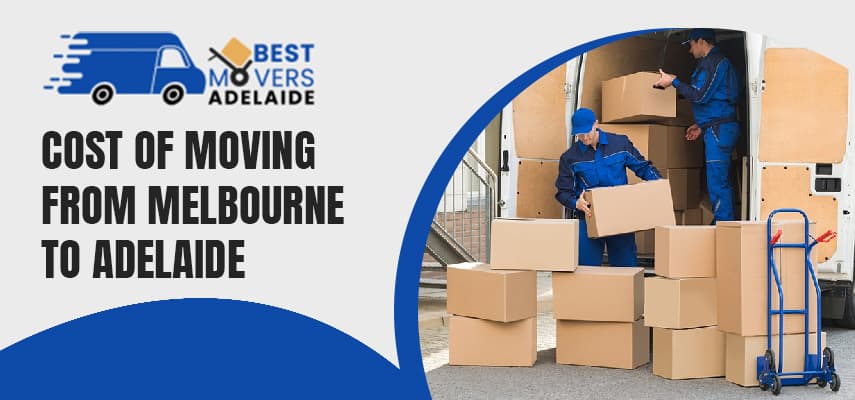 Now, your question must be what you can expect from an expert and how they charge according to the services. It will be good for you to have knowledge about the cost to move interstate. So that you hire the best removalist company for relocation within your budget.
How Much Do Interstate Removals Cost? A Fare Cost to Move Interstate
Many interstate moving companies charge hourly rates. But, some charge their package in which all your requirements will be fulfilled like distance moving or house rooms.
The cost of packing, moving, and unpacking your house can range from $1,000 to $10,000 or more. However, the total cost of moving depends on a few factors, including the size and type of house being moved, the distance being traveled, and the number of people involved. Let's see the interstate moving cost Adelaide to Melbourne which you can expect as the average cost. 
If you have one bedroom in your home, then, you will require two removalists for getting the job done and the average cost you can expect is around $125 hourly. While an interstate moving package for one bedroom can come between $1000-$1500.
If you have two bedrooms in your home, the average cost will be around $175 hourly. And you will require 3 removalists for the removal. The average interstate moving cost will be around $2,600-$5,850.
If you have four or more bedrooms in your home, then, you will need 5 or 6 removalists and the average cost you can expect is $315 hourly. This package can cost around $5k-$10k.
How Does Long Distance Affect the Cost of Relocation?
If you are simply relocating to the nearby city it will be around $100 to $1000. And, if you are relocating somewhere far or to another city, then, it will cost you around $2,600 to $3,640. This increases interstate moving costs. In many cases, distances are 1000KM-2000KM. The journey can take anywhere from 15 hours to 24 hours.
What can make the cost of moving from Adelaide to Melbourne more expensive?
The interstate moving cost will increase if your relocation is very complex as it will take more time for a removalist to move all your belongings. Many removalists can also charge according to the weight of your furniture or belongings. You can expect an average cost of $50 to $140 for one cubic meter volume. And, do make sure about the day of relocating because they charge more on weekends and even choose non-peak hours for relocating as peak hours cause lots of traffic which will lead to an increment of costs. These things can increase your moving costs:
Moving insurance
Packing service
Storage on arrival
Transportation of pets
Transportation of vehicles/motorbikes
Boxes for DIY packing
Are there hidden charges?
Moving can be a daunting task, but with the help of a professional packer and mover, you can reduce the stress. However, even with the best preparations, there are often unexpected costs along the way. You must get the calculation of the cost of moving and identify any potential hidden charges. When calculating the overall cost of your move, don't forget to consider packing and unpacking supplies, transportation costs, and other associated expenses.
Do your options change depending on where you live in Australia?
If you're moving interstate, the cost of moving depends on where you live in Australia. Every city has its own rates.
The price of a standard move can vary depending on your location in Australia, but it's usually between $2,000 and $5,000. For example, if you're moving from Adelaide to Melbourne, the cost of moving from Adelaide to Melbourne will be around $2500-$3,500 while if you're moving from Brisbane to Perth the cost will be around A$2,500-$4000.
Keep in mind that these interstate moving cost Adelaide to Melbourne, and Melbourne to Adelaide are just estimates and can change depending on your specific situation. To get a more accurate estimate of your move costs, speak with your relocation company or check various online calculators.
Some Tips To Help You Save Interstate Moving Cost
Compare quotes from multiple moving companies and brokers to get the best deal.
Research what type of transport is available in your area (car, truck, shipping container).
Pack as much as you can yourself and take the time to organize everything before loading the vehicle.
Calculate the value of items that are breakable or can be damaged in transit (paintings, glassware, delicate items).
Take photographs of all your belongings and keep a copy on hand for insurance purposes.
Use packing boxes, bubble wrap, and other packing materials as needed but avoid overpacking.
Label each box with its contents and room number.
If you have something small for moving backloading Melbourne to Adelaide can be an affordable option.
Conclusion: Cost of Moving From Melbourne to Adelaide
So, we hope that by reading this article you got an idea of the interstate moving costs to South Australian Cities. To move properly and safely, hiring interstate movers is a good option as they can make the relocation very smooth and hustle-free for you. Just keep an eye out for the process so that you can make it happen at the lowest cost.