What's The Best Way To Move: Hire Movers Or Move Yourself?
Planning to move? Moving is one of the most stressful and hardworking things to do. As soon as you plan to move you get a lot of confusing questions in your mind such as moving yourself vs hiring movers. Moving does not mean packing the belongings, loading them onto the truck, and transporting it and it's not as simple as it looks like. You need a very long and brief plan to move. You need to consider carefully whether you can move yourself or you need a mover.
You must be thinking about which is the best option for you. Choose the option according to your circumstances. Here are some of the points you must focus on before you decide which is better. Perhaps the biggest thing that really matters when it comes to deciding moving yourself vs hiring movers is the cost. But leaving cost aside there are still so many issues as well such as.
The size of stuff to be moved.
The distance to which one has to make a move.
The number of resources, availability of members & amount of time we have.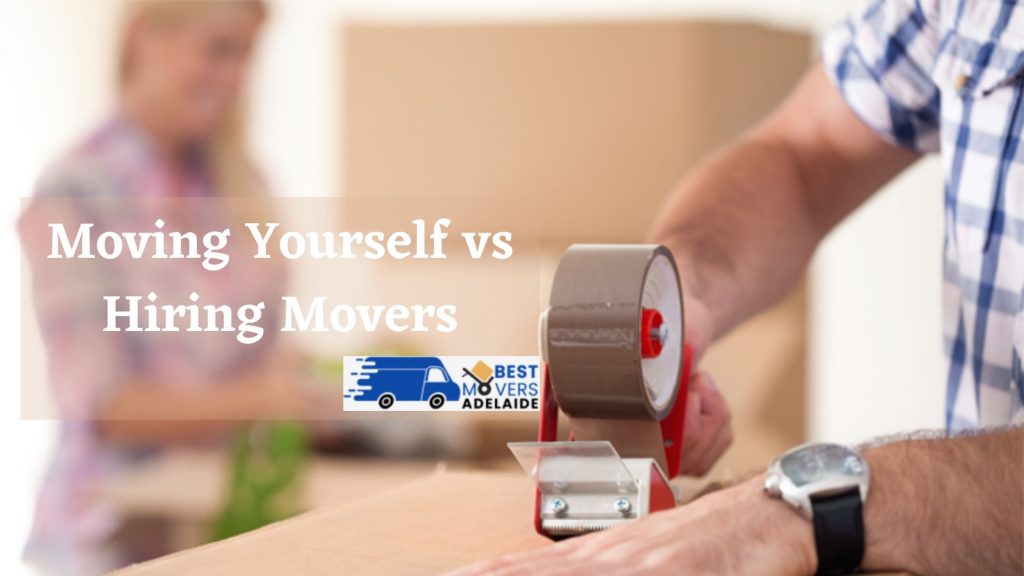 Info That Will Help You Decide Moving Yourself Vs Hiring Movers
It will make you feel good if you have a good availability of people who can help you. Moving takes a lot of hard work and it's not a single person's work. Either arrange for someone to help you or get ready yourself for some weight lifting. Below are some factors that might help you to make a decision about your moving decision. Stay with us for the complete guide till the end:
Of course, without any doubt moving yourself is cheaper than hiring professionals. Moving yourself will save you money but will make you do a lot of hard work and can cause some potential damage to your stuff. If your budget is too tight then the only option you are left with is to move yourself but you have to take more care of everything.
If you have a lot of free time or if you can manage to get some free time then only go for self-movement because moving yourself will take a lot of time. You have to do everything from packaging to renting a moving truck to loading to transport to unloading everything you have to do by yourself. It will not take much time if you have some friends and family to help you out. Professional Removalists Adelaide can be your good friends to save you time. 
Have you done this before? If you do not have knowledge of doing this then hiring movers might be a good option for you. If you do not have any experience with packaging then it might take more time and space. You have to move everything by yourself so if you are not experienced you might damage your belongings while loading and shifting.
When you plan to move yourself you must consider the availability of some important stuff such as a moving truck, tools, equipment, packaging boxes, etc. Don't let your time be wasted on finding this stuff. Professional movers have everything with them from important tools to trucks. They will arrange everything by themselves, you don't have to worry about anything.
Hassle is one of the important factors which will help you decide to move yourself vs hiring movers. if you are ready to hassle then go for self-move. It may let you do some hard work but at the same time, it will make you feel rewarded. It may not give you peace of mind but can help you save some money. If you wish to give yourself some rest then hire a mover, they will take care of everything by themselves.
Pros & Cons When You Move Yourself
PROS
Moving yourself is a bit cheaper than hiring movers. Sometimes the movers charge a little way more which may become an issue if your budget is tight.
Moving yourself is more flexible than hiring movers. You can take as much time as you need. You can take a week-long time if you move, and can do your work part by part.
You can arrange everything according to yourself.
When you move by yourself you have every command in your hand. You are the only boss when you move by yourself. You have proper control over everything.
Moving yourself can help you to save your savings but will let you do so much hard work.
CONS
Have to rent a truck
The hassle factor
Stressful
Cost of special moving equipment
Risk of damage and costly injury
Have to spend more time
Moving yourself is not as easy as it looks but if you have a good experience and if you have done this before then it might be a good option. It has few risk factors but all the things that are important are experience. If you control your move yourself, pack all items, load them onto the truck, travel to the destination, and unload.
PROS & CONS WHEN YOU HIRE MOVERS
PROS
Saves time
Don't have to worry about damage.
Don't have to make any arrangements.
No hassle
Less chance of delay
No heavy lifting
CONS
Hiring movers can cost you more but it's a lot less hassle.
Must trust others with your belongings
The choice between moving yourself vs hiring movers depends on different stigmas. At some point, you will find moving more efficient, and sometimes you will find hiring movers is better. It depends on person to person. Taking all these things in mind one should decide which is better. If you have made your decision of hiring movers, the very next thing that will come into your mind is which company is better?
Make Your Move Worry-Free By Choosing the Best Movers in Adelaide
We will provide you with the best possible professionals. We will take care of everything from packaging to delivering to unloading. You can trust with your eyes closed. Best Movers Adelaide will not let you lift even a single little thing. With the help of their specified tools and equipment, we make everything look easy.
We will give you everything on time without any delays. We have moved more than a million families with our hard work and dedication. All you have to do is give us a little trust and we will not let your trust down. With all our dedication and passion, we will work even harder.
All you have to do is open the application, book your slot, and give us a date and we will make your move go smoothly. We have everything with us from important tools to trucks. We will arrange everything by ourselves, you don't have to worry about anything. Just sit back and relax.